April 22nd 2018
10-3pm £80
Herons Bonsai Centre, Lingfield, RH7 6HJ
Join Emma Cole Yoga, Helen Moynihan of Venus Nutrition & The Fat Carrot Catering for a wonderful day of detoxing Yoga practices for digestive health, followed by a scrumptiously healthy lunch provided by The Fat Carrot and an interactive and fun fermentation workshop / information session lead by Helen Moynihan.
Our location for this Day Retreat is very close by at The lesser known Herons Bonsai Centre in Lingfield; a beautiful, very spacious and Zen studio, tucked away with exquisite, natural views.
Emma will lead you through a luxurious, spring-time, morning Vinyasa Yoga practice that leads into Restorative Poses (with ample time for you to marinade in them!)
This Day Retreat incorporates Yoga with the Seasonal Philosophy of Five Element Theory (Traditional Oriental Medicine) which likens our system to the dynamic interchange of Nature's Elements as the seasons change. This can be a beautiful and valuable tool to understand ourselves physically, psychologically and spiritually.
The Wood Element (energy rising in spring time – growth and new life) is our main focus for the Vinyasa practice and we will also tap into the Earth Element (energy descending, rest and digest, reducing stress) before our delicious, healthy lunch provided by local, vegetarian, independent company The Fat Carrot (run by Jane who provides 'droolingly' tasty meals for all my Retreats!)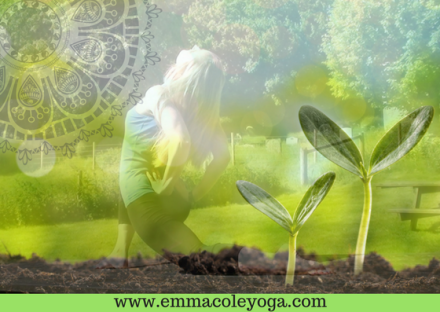 The Oriental Meridians (pathways of energy) & self-massage of acupressure points will be Incorporated into the sequencing, stretches, poses, movements & self-massage teaching points for the class. Emma caters for those with less experience and those who would like more of a challenge. Emma will also include specific yogic breathing practices to boost spring-time cleansing of mind, body and spirit.
After lunch, we will gather together with the fabulous and locally-based Helen Moynihan of Venus Nutrition for an interactive nutritional workshop on the amazing benefits of eating fermented food. She will lead us through making our own homemade Kimchi which you can pot, take home and eventually share with your loved ones and the benefit of their digestive systems!